Over at BigStyle we're massive fans of all things Christmas… and this year we've got designs on turning the lodge into a winter wonderland.
This December 13th to 15th we're going to be putting together a pre-Christmas weekend escape to the wilds of Mayo complete with all the things you'd expect from a BigStyle trip – outdoor adventure, yoga, chilly dips, unbelievable food, hot tub craic, live music, cosy pints – but waaaay more Christmassy.
So read on to find out all the craic that'll be going down in a heavily decorated lodge filled with yuletide vibes… and the best part is the whole weekend starts from €180.
Sure look.
Two nights accommodation in the Atlantic Lodge

Three meals a day including one sit down style Christmas dinner

One yoga session each morning.

A trad session in P. Dans pub on the Friday night

A homemade BigStyle table quiz on Saturday followed a little music session

A big hike up Killadoon hill

A optional surf / dip in the Atlantic

Hot tubs will be steaming hot on Saturday night

Such levels of christmas cheer that you'll scarcely believe it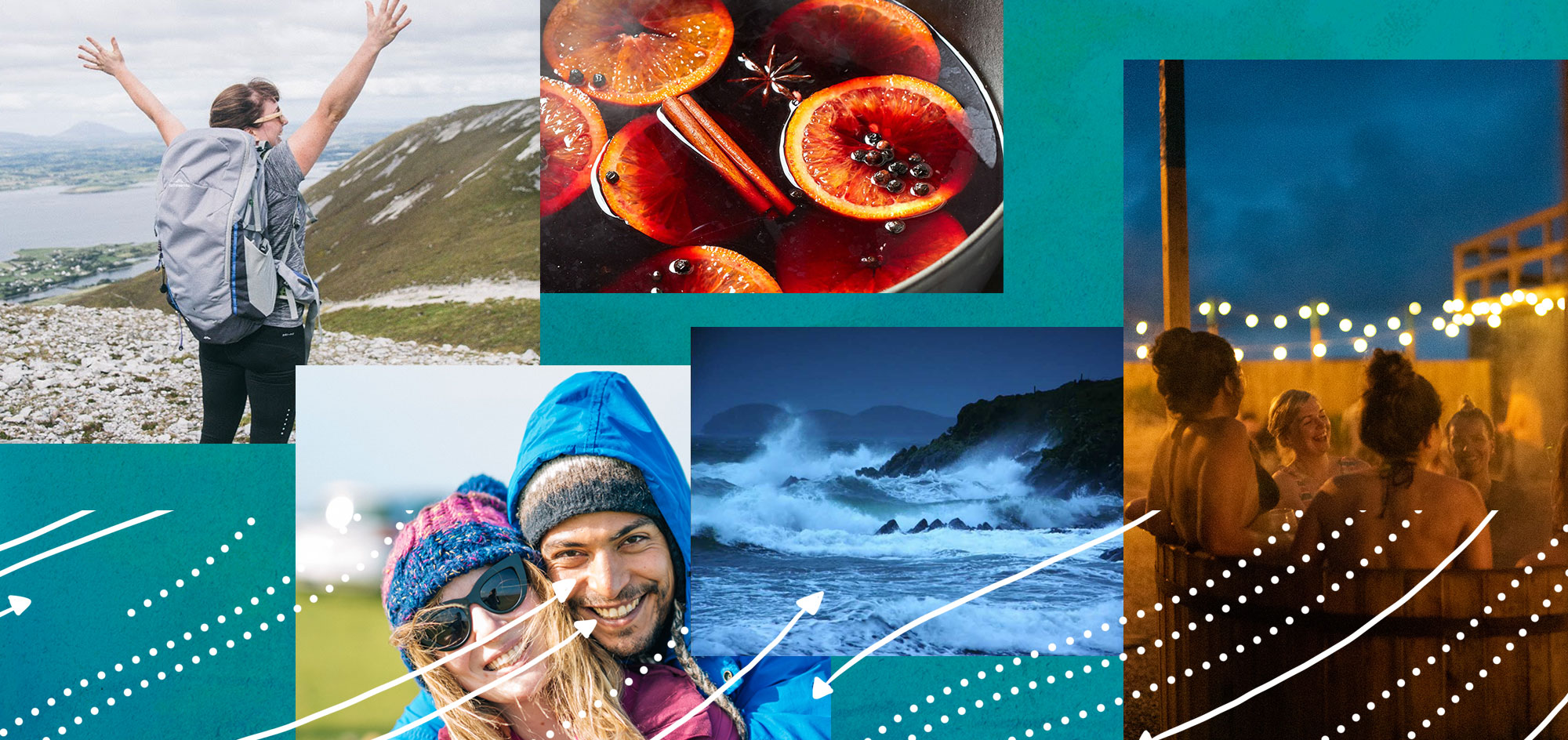 Transport down. No problem for drivers and we've got a train & bus package for those non-drivers.

Alcoholic beverages – but there'll be plenty of opportunities to stock up in an off-licence or enjoy a creamy pint of black stuff in a local boozer.
So there are two ways of getting down to us.

1. SELF DRIVE 

If you have your own car it's a straightforward 3.5 – 4 hour drive down the M6. If you're driving solo or have space in your car we'll try to find you some other guests to carpool with.
Once we know who's going we can start putting plans together regarding this.


2. TRAIN & LIFT

You can take the train from Dublin to Westport and we can collect you from Westport train station and bring you straight to the lodge.

The transfer from Westport train station to the lodge costs €10 each way  

From Dublin the plan would be:
Outgoing: Take the 18.15 train from Dublin Heuston to Westport on Friday evening

Return: Take the 5.45 train from Westport to Dublin Heuston on the Sunday evening

The train usually costs €40 return and takes 3.5 hours
Swimwear 

Beach towel 

Wetsuit if you have one (we'll of course provide one if you don't)

Warm and waterproof clothes, and plenty of changes of socks and trousers etc. It's the West of Ireland in late Autumn… be prepared. 

Hiking boots (waterproof if possible)

Reusable water bottle

A bit of booze if you're that way inclined