A quick note on our Covid response 
We've spent the last few months making sure that the lodge is ready to reopen, and that means making sure we're in-line with all the government legislation/advice on safety and cleanliness. 
On top of that we've made some organisational and structural changes to the weekends to ensure that they run as safely, smoothly and as similar to our usual high standards possible – while retaining physical distancing. 
Among these changes are:
Smaller numbers on the weekends (less than 20), less students to more instructors during outdoor activities, multiple small yoga classes throughout the day, temporary closure of our dorm rooms, an optional extra day to add on to the trips, and a rethinking of how we serve food… along with an exciting reimagining of the menu. 
The upside is that these changes will make for more intimate, streamlined events that our guests will get more out of – the down side is that we've had to put our prices up a little to keep things on an even keel. 
It's only by €30 though… you'll be glad to hear!
For a full and comprehensive rundown of all the changes we've implemented to make sure BigStyle can open back up in July check out our Covid response below. 
So thanks for reading and we're very much looking forward to seeing you out wesht this summer!
Planning on hibernating for the winter? Not on our watch.
Due to popular demand BigStyle Atlantic Lodge will be opening right through the winter… November, December, January, February and March.
For the chilly period the Shtyle's decided to put together something tailored for those short, sharp winter days.
So slide yourself down to the warm embrace of the BigStyle Atlantic Lodge this winter for a weekend of relaxed yoga, windswept hikes, chilly dips, hearty food, cosy pints, class tunes and serious craic.
Read on to find out just what we've got in store for you.
We're going to keep the groups small over the winter weekends – for both a more intimate, cosy vibe and so we can be sure to practise social distancing effectively. 
Here's what's included: 
Two yoga sessions per day, one in the morning and one the evening. 

Breakfast lunch and dinner each day from our new (heartier) winter menu 

We'll be planning to tackle Mweelrea, Connacht's highest mountain, with our qualified hiking guides on either the Saturday or the Sunday. 

The other day we'll be planning a shorter hike up Killadoon hill followed by a dip in the sea for those of us feeling brave   

Sourdough and sauerkraut making classes 

Saturday is pizza night, made in our wood fired pizza oven 

An indoor/outdoor gig on the Saturday night if the weather plays ball 

Cosy evening vibes in the lodge and the option to bring a few pints in from the pub next door or to bring a few drinks of your own along  
Outdoor Activities

There's nowhere better to be during these strange times than the great outdoors and we'll find it very manageable to practise social distancing during our hikes and sea swims.

Eating and Cooking

We've built separate seating areas for everyone to eat in their own pods (the group they've come down with) and the same will apply for the cookery demonstrations and pizza prep.

Yoga

We're going to keep the yoga classes small and slightly shorter than usual in order to make sure that we've got 2 meters between everyone and we're not spending too long indoors together in one group.

This is the stuff that we'll do if the weather doesn't allow for the main activities… but they're still class.

Killadoon Hike & Swim Combo
There's a beautiful one and a half hour hike up Killadoon hill right behind the lodge. It loops back around to the beach on the descent so if you're feeling brave a winter dip is the perfect way to round it off. 
Then it's open fires and hearty food.
Mweelrea Hike
This is a full 3.5 hour round trip up Connaught's highest peak, it's not the world's easiest ascent but the rewards are myriad for those hardy hikers out there.  
Views over Killary Fjord, right the way down through Connemara, taking in the beaches and islands all the way up to Croagh Patrick and Clew Bay. 
Then get back to the lodge for pints and craic.
Yoga
It'll be non-stop in the studio with at least three yoga sessions taking place.
The yoga practise at the lodge is very open with mixed level Ashtanga Vinyasa. 
If we're forced inside all weekend by the weather (which is unlikely as it would take a hurricane) we'll bring more yoga and different indoor workshops into the weekend.

Cookery Workshops
We're planning an afternoon of learning how to make a few simple and delicious meals led by our in house chef, Bryan. Every table will be provided with the equipment and ingredients they need to make your own creations and to bring them home with you… or eat them on the spot.  
The drivers should be leaving straight after work as it's a four hour drive, while those going by rail should be on the 18.15 Westport train and we'll have a bus to meet you at Westport station on arrival.
When we get down to BigStyle's Atlantic Lodge the team will have food waiting for all those weary travellers – all food is vegetarian but if you have any specific food requirements let us know and we'll make a plan.  We can cater for vegans and ceoliac easily with prior notice.
Then we'll have a few beers at the Lodge and see where the night takes us.
We're up nice and early on Saturday morning, around 8am, then we'll be running two back to back yoga classes first thing in the morning in our fantastic Yoga studio with a view.
Then we'll have breakfast in the back lodge and after that we'll head out to start the day's adventures, in between activities the Lodge team will serve up some hearty lunch.
If it's Mweelrea day we'll be bringing a packed lunch up the mountain with us, while if it's killadoon hike and swim day we'll be eating lunch back at the lodge. 
Depending on how hectic the day is we'll either be doing cookery courses or a second yoga class in the evening. 
Then we'll serve up dinner straight from the pizza oven and everyone can settle in for a relaxed evening in the lodge.  
Once again we'll be up nice and early on Sunday morning to start the day with a bit of yoga and if it's going to be a Mweelrea day we'll be sure to set off straight away after breakfast bringing lunch with us. 
If it's a Killadoon hill and swim day we'll be back in time for lunch in the lodge and we could find some time to do a wind down yoga session after lunch for those of us with a bit of energy left. 
Then when you're ready the drivers can set off home at their own pace and those on the train can hop on the bus at around five o'clock. 
And you'll be back at home exhausted… the good kind of exhausted though.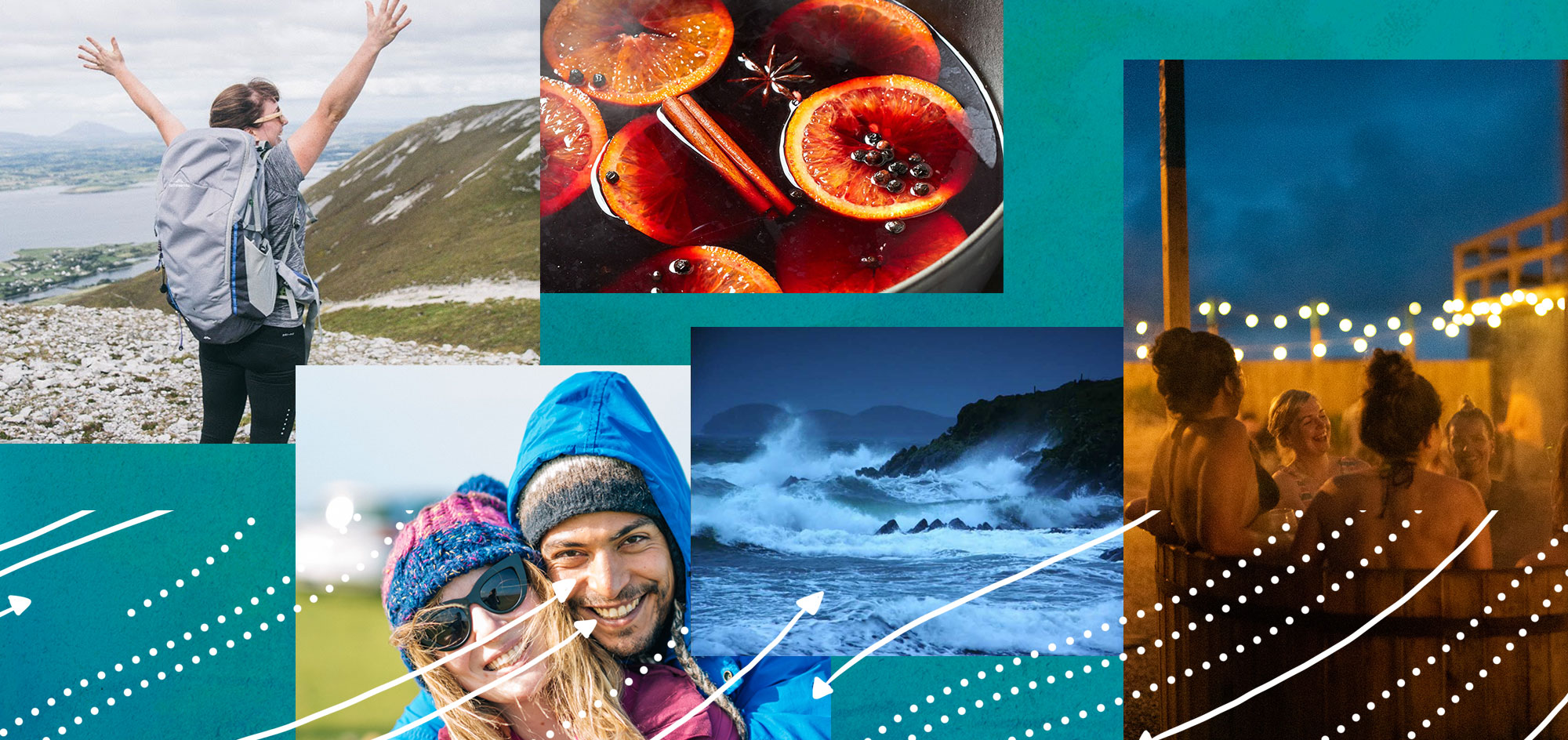 Transport down. No problem for drivers and we've got a train & bus package for those non-drivers.
Alcoholic beverages – but there'll be plenty of opportunities to stock up in an off-licence or enjoy a creamy pint of black stuff in a local boozer.

So there are two ways of getting down to us.

1. SELF DRIVE 

If you have your own car it's a straightforward 3.5 – 4 hour drive down the M6. If you're driving solo or have space in your car we'll try to find you some other guests to carpool with.
Once we know who's going we can start putting plans together regarding this.


2. TRAIN & LIFT

You can take the train from Dublin to Westport and we can collect you from Westport train station and bring you straight to the lodge.

The transfer from Westport train station to the lodge costs €10 each way  

From Dublin the plan would be:
Outgoing: Take the 18.15 train from Dublin Heuston to Westport on Friday evening

Return: Take the 5.45 train from Westport to Dublin Heuston on the Sunday evening

The train usually costs €40 return and takes 3.5 hours
– Booze
– Swimwear
– Beach Towel
– Wetsuit if you have one
– Warm & comfy clothes for after beach/hiking etc
Triple Room with Ensuite – €270 pp sharing
Double Private Room with Ensuite – €290 pp sharing
Twin Room with Ensuite – €290 pp sharing
2020
20th – 22nd of November
27th – 29th of November
4th – 6th of December
12th – 14th of December
2021
12th – 14th of February
26th – 28th of February
12th – 14th of March
26th – 28th of March
*IMPORTANT MESSAGE*
In order to keep in line with Physical distancing throughout the Adventure Weekends we can only take bookings from groups of two people at a minimum.
We're really sorry for any inconvenience caused by this and feel free to contact us if you have any questions.
If there is no availability below please email your request to info@bigstyle.ie