Turf fires, pints of Guinness, music sessions, chilly seas swims, and Ireland's most scenic sauna and hot tub.
Escape the city and come hunker down with us in the lodge this autumn and winter. We'll be running a few stripped back weekends over November and December with a focus on relaxation and rejuvenation.
Read on if you're keen for cosy vibes out wesht.
We've stripped our weekend escapes back for the winter. More affordable, less action packed with more time for you to chill and unwind.
Two night's accommodation
Two breakfasts
1 x Wood fired pizza dinner
1 x guided hike
2 x Big Dipper sauna and hot tub sessions
Free tea and coffee available throughout the day
Access to shared kitchen for preparing meals
Homemade snacks, tea and coffee throughout the day
Turf fires inside and bonfires outside
A fantastic chilled out weekend.
Allergens – Please let us at the time of booking in the notes section & pop us a quick email if you have any allergies.
Prices are based per-person
Price for two nights based on two people sharing - Double / twin room
€220 pp
Price for two nights based on three people sharing - Triple room
€200 pp
Single occupancy surcharge
€80 pp
Allergens
Please let us at the time of booking in the notes section and pop us a quick email if you have any allergies.
Our menu changes week to week so the more notice we have the better chance we can accommodate you.
Double Room Bookings
Double rooms perfect for couples to share a room together
Twin Room Bookings
Twin rooms are perfect for two friends sharing but note that if you book 1 slot you might be sharing with another person
Did somebody say 'Ireland's Most Scenic Spa?'. Our sister company,The Big Dipper, is a stunning sauna and hot tub set up directly across the road from the lodge. It's usually an add on for trips to the lodge but there's a session each day included in the trip. The perfect spot to unwind. Read more about it here: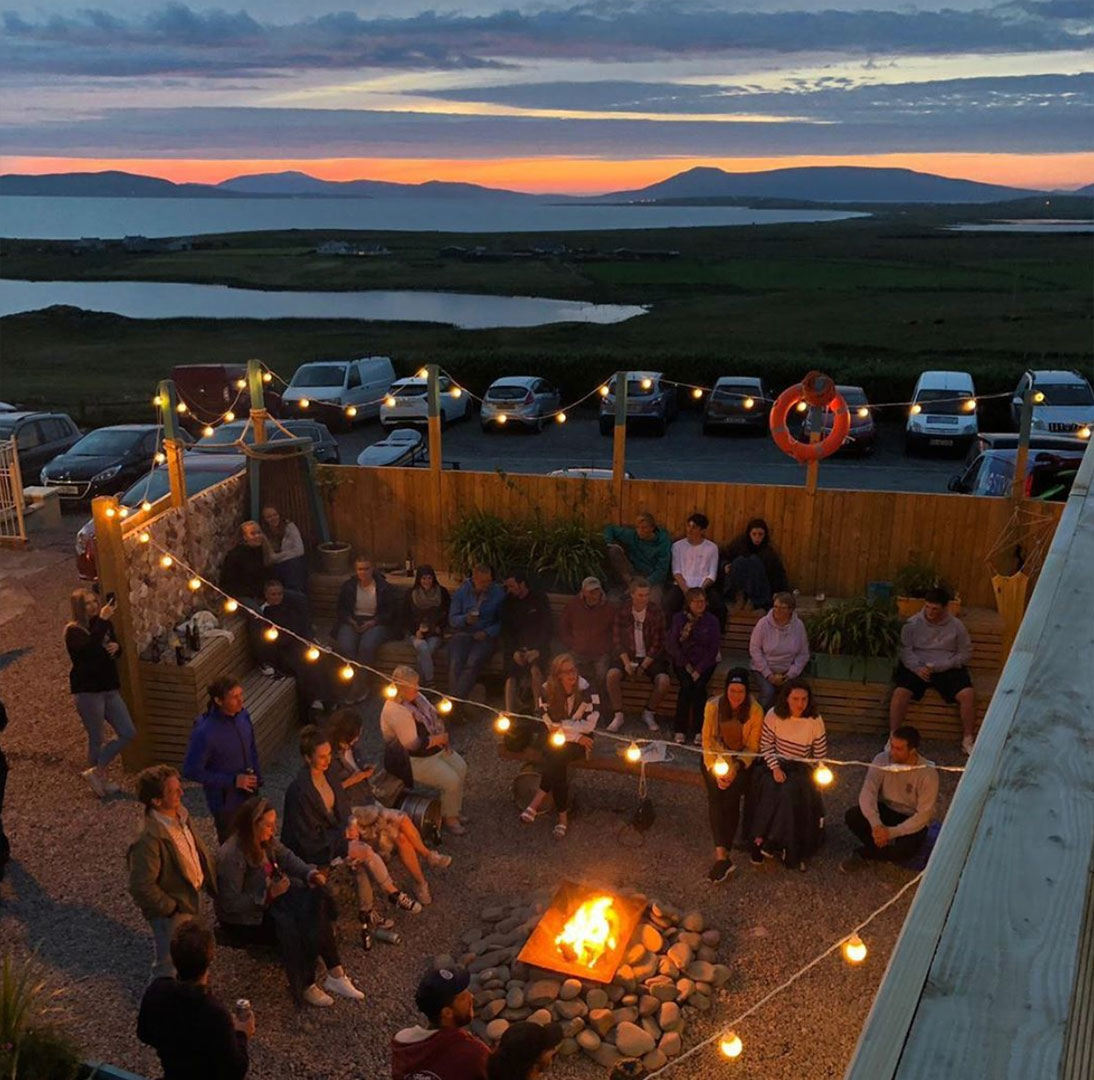 The lodge is a beautiful space to escape the stress of the week. Chill during the day and maybe read a book on our roof deck and catch some rays. Grab a fresh pint of Guinness in our onsite pub P.Dans.  In the evening, while the sunset behind Clare Island, the bonfire will be going and there's always a few tunes going about. 
The lodge is situated next to the magnificent Killadoon Hill which we often tackle on one of the days. It offers panoramic views of the surrounding area and we often end the expedition with a sea swim down on Killadoon Beach. 
We don't fully cater the autumn/winter weekends but we make sure you have a delicious, hearty breakfast both mornings. We also fire up the wood fired pizza oven on Saturday night and feed everyone the finest pizza west of the Shannon.
For the rest of the meals there are beautiful cafés and restaurants in the area, and we'll also have the kitchen available for guest to prepare their own meals.
We don't include surf lessons in the winter weekends package but if the weather's playing ball we can definitely include it as an added extra. On the right day a winter surf lesson can be magical.