KITE SURFING TRIPS
Kitesurfing Holidays & Adventures in Ireland, Kenya and Sri Lanka
One of the best things about watersports is where they take you – from half an hour down the road to half way across the world. With this in mind BigStyle has teamed up with Hooked Kitesurfing in Wexford to offer trips both within Ireland and further afield.
For our Irish weekend trips we go down to beautiful Hook head in the far south of Wexford in Ireland's sunny south east. Due to the uncertainty of the weather we include a host of activities that suit any eventuality, including kitesurfing, yoga, Stand Up Paddleboarding and coasteering.
On top of all that carry-on, there's always a healthy amount of pub based craic and general paddywhackery to keep everybody entertained into the night. After a weekend of Irish Sea antics and general having a good time we'll send you back to civilisation a changed person.
As much, though, as we all love Ireland and all its various eccentricities, sometimes they can get a bit much. One universal truth is that Ireland really needs to get it's act together weather wise – so until it does we thought the thing to do would be to find places with a bit of weather we can rely on, and after looking around for places worldwide that are both paradisiacal and affordable we eventually found two that fit the bill perfectly – Diani Beach, Kenya & Kalpitiya Lagoon, Sri Lanka.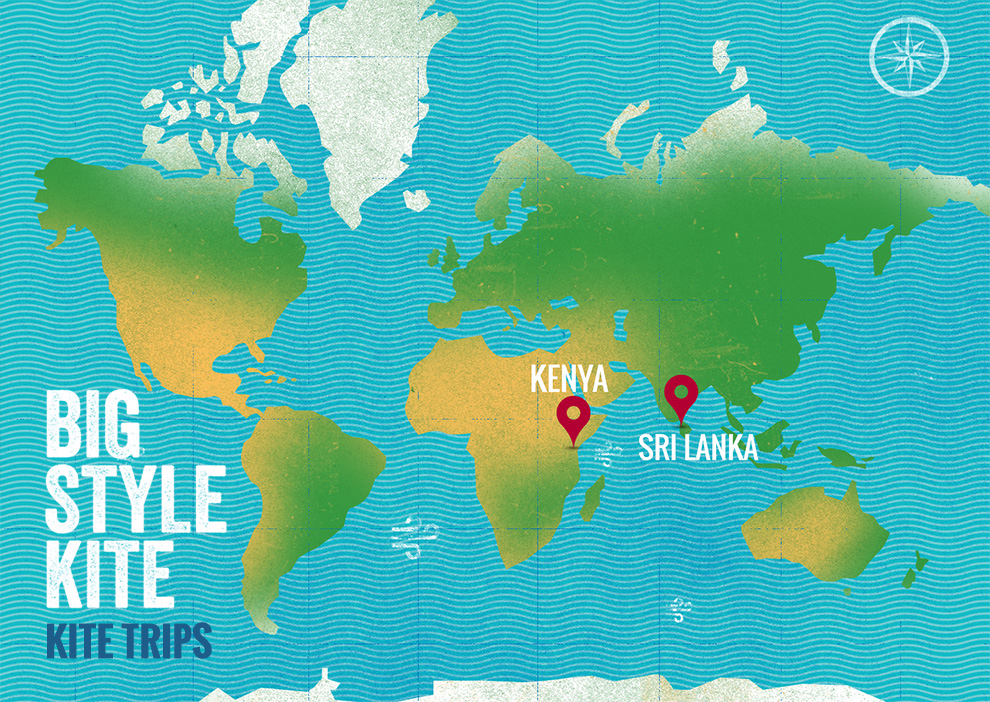 On these trips we cater for everybody – from the complete beginner to somebody wanting to attempt their first unhooked tricks. While we're away we do lessons every day, splitting groups up into their respective skill levels – learning in flat water and steady, reliable wind makes all the difference and we've found that these trips allow people make huge advances in a really short space of time.
For the advanced riders we focus on things like upwinding, basic pop, front and back rolls, kiteloops and downloops, waveriding (strappless and strapped), basic unhooking, raileys and s-bends. We also make sure we look closely at all the safety aspects – from beach etiquette to emergency packdowns.
Although they're respectively located on either side of the Indian Ocean both Kenya and Sri Lanka are subject to the same winds. Strong, steady trade winds that have been sending people back and forth across the Indian Ocean for millennia – warming up, of course, for the genesis of kitesurfing.

We chose these two places because they both offer very different things in equal measure. Kenya has reliable wind, both flat water and waves, glorious beaches, great nightlife and plenty of non-kiting activities – from wave SUPing to safari.
Sri Lanka also has reliable strong wind, but in place of waves it's got shallow chest high lagoons with butter flat water – ideal for learning the basics all the way up to progressing advanced moves. Our trip to Sri Lanka is much more about intensive kitesurfing all day, our location has a frontier feel to it – a trip where kiting takes priority but there is, of course, still room for a bit of craic.
So have a look at our trips, see what's best for you and don't hesitate to get in touch.