KITESURFING LESSONS
Learning to Kitesurf will change your life, it's as simple as that
Learning to kitesurf will change your life – it's as simple as that. After work sessions in Dublin bay in the long summer evenings replace watching box-sets of House of Cards on the couch. Weekend adventures out to the brooding winter waves of Ireland's west coast replace Saturday afternoons in the pub – while tropical kite holidays to far flung destinations make lying by a pool a distant memory. For a kitesurfer life is refreshingly void of dull moments.
Getting to this stage though does require a little effort. Kitesurfing is a surprisingly easy sport to learn but the initial stages can be daunting and dangerous without the tutelage of a qualified instructor.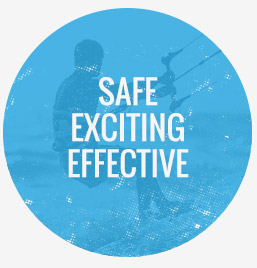 At BigStyle we've been teaching for years and with the help of the guidelines supplied by the BKSA (British Kitesurfing Association) along with the IKSA (their Irish counterpart) we've developed a safe, exciting and above all effective way of getting people up and riding as soon as possible.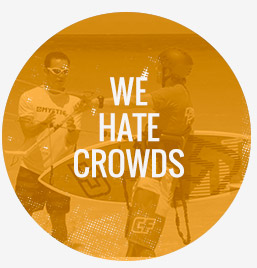 At BigStyle we hate crowds, so we guarantee no more than three people in a class unless it happens to be an organised group lesson. We also pride ourselves on providing great value for your hard earned money, meaning that if the wind's not playing ball we'll reschedule until that it gets its act together.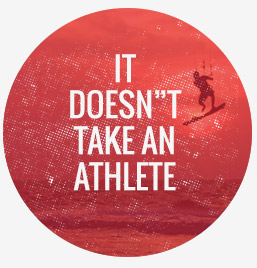 It doesn't take an athlete to be able to kitesurf, all it takes is a bit of determination and perseverance. It also can be as relaxed as sailing a dinghy or as intense as jumping out of a plane – kitesurfing is what you make of it.
LESSON BREAKDOWN
Lesson one will begin with you being introduced to all basics that a kiter must know before stepping out into the water.
Beginning with theory we will look at wind direction, potential hazards, environment and the basics of how kites work.
On land we will teach you how to set up and fly a basic two line trainer kite, this will give you an elementary understanding of how kites fly in, and react to, the wind.
Just before you step into the water we will teach you how to set up a proper kitesurfing kite, or LEI (Leading Edge Inflatable) as we call it in the world of kiting.
Next thing you know we'll be in the sea – and surrounded by a nice, soft landing of water we'll get to grips with fundamentals of flying an LEI.
If things are going well and the wind is nice and strong you should get your first body-dragging experience – this is when we let you loose to be pulled downwind through the water by the kite.
From now on we're going to be spending nearly all our time in the water, and things are getting seriously exciting.
First thing's first though, you'll be tested in how to set up a kite independently – being confident of how to set up a kite is of huge importance.
Then it's back into the sea where'll you'll get to grips with different types of body-dragging. Learning not only how to be dragged downwind but also upwind and to the left and right.
In this lesson we'll also focus on controlling the kite, how to get power when you want it and how to ease the power off when needs be.
This control will be important when walking the kite from A to B – so we'll focus on walking and controlling the kite at the same time.
Finally in this lesson we'll learn how to relaunch the kite out of the water and also what to do in an emergency out to sea – a procedure we call the emergency pack down.
Once again we'll begin with you setting up the kite on the beach – making double sure that you know one end of a kite from the other.
Next up we're straight back into the sea to continue honing those body-dragging skills and introducing a new powered cross-wind drag.
In the water we'll set challenges such as rescuing your board when it is up wind of you by body-dragging, or keeping your feet out on front of you with the kite in the sky – thus simulating having the board on your feet and experiencing the balance that's required.
At the end of this lesson we always try to give the student a taste of the board for a couple of minutes at the end, this lets the idea of what's required to stand up settle in your head before lesson 4.
This lesson is in some ways the most challenging but also the most exciting.
After once again setting up the equipment on the beach, without any help whatsoever from the instructor, we take to the water with the board and begin to get you up and riding.
At this stage your kite control should be at a high level so all kite flying will be independent of the instructor.
Then you will learn how to use the kite to drag yourself up onto the board (the board start) and then to maintain momentum going both directions.
As well as getting up on the board it is very important to learn how to stop and turn around.
A smattering of advanced theory regarding the correct wind conditions, and the ability to walk in and out of the water independently, are the finishing touches to this course.
At the end of lesson 4 you should be strolling away from the beach no longer a mere pedestrian, but a kitesurfer…
It's a simple fact of life that different people learn different things at different paces – there's no such thing as a standard student.
In four lessons not everyone will be up and riding on the board, so from time to time another lesson or two is needed.
Also even when people are up on the board another lesson can be a good idea. There are some things – from going upwind on the board to doing your first tentative jumps – that are easier learned with some tutelage.
So once again, check out our packages and our group deals, see what suits and come at us – we'll be here until it gets too cold for our own good.