While our weekends during the Summer are given over to all inclusive adventure trips, during the week and off-peak seasons we open up the Lodge for guests to simply stay, or stay and work remotely.
It's perfect for those who want to just chill or to improve their surfing or for those who want to turn BigStyle into their office for a week. We will also be running Kids Surf Camps during the months of June – August!
Between our watersports schools, onsite pub, Big Dipper Spa, yoga studio and surrounding natural amenities… not to mention our huge inside and outside communal areas for chilling out or remote working
We've got your stay covered.
Read on for all the info:
BigStyle surf and SUP schools will teach you everything you need to know to get you making the most of the amazing beaches and lakes in the area!
The Big DIpper has been described as 'Ireland's Most Scenic Spa'… and that view is hard to beat. Located 10 steps from the lodge it's the perfect place to wind down, whatever the weather.
From June to September we run a fantastic multi-sport kids camp based on Cross Beach, five minutes away from the lodge.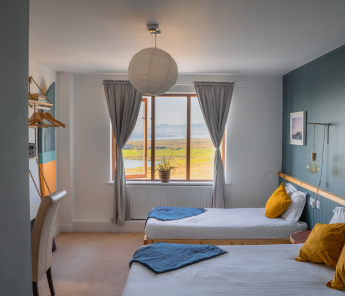 We have doubles, twins, triples and dorms, all of which are thoughtfully designed and ensuite. We have big, spacious indoor and outdoor chilling areas. Perfect for soaking up the sun, sitting around the campfire or snuggling in with a book.

Yoga Studio & Office space
Our yoga studio looks out over the Atlantic and is open for guests to use for a stretch or a workout. In high season we run yoga classes here several mornings a week.
It can also be used as an office space if you're planning on working from the lodge.

P Dan's is the ideal place for a pint and a chat or listen to a bit of live music. They also serve hearty pub grub. High season, from May to September food is served five days a week from Wednesday to Sunday. Low season, from March to May and September to December food is served on weekends. 
On Saturday nights BigStyle turns into a pizza place as we fire up our woodfire oven and guests have the option of buying a 14" pizza made in house.

The Lodge is often booked for all inclusive weekend escapes or private events, but any time they aren't happening you can come and stay with us for B&B.
The best thing to do is click through our booking link and find an available time slot that suits you!
BOOK NOW
Accommodation

Healthy breakfast 

Bottomless Tea & Cloudpicker Coffee

Access to the lodge's amenities

Wifi

Check-in 3PM

Check-out 11AM

Bag Storage

In-room desks and charging points

Communal office space 

Dedicated private group working space (on request)

Priority booking for the Big Dipper and watersports schools

Information on local attractions & Westport restaurant recommendations

Office/ Yoga studio outside on request