We think it should have been called the 'mostly surf but also SUP, yoga, hiking, hot tubs & sauna, live music, pints, camp fires and all manner of craic week'… but after careful deliberation we decided that was a bit of a mouthful.
So it's the surf week – but with so much more.
Arriving down on Monday afternoon and leaving Friday morning we'll have 4 nights and 3 & a half days of craic and adventure. Every room is ensuite, all our delicious food will be included as will all daytime and evening activities – the only thing you'll need to put your hand in your pocket for is a few pints in P Dans, our on site pub.   
4 nights in one of our ensuite rooms
4 x 2 hour surf lessons
Surf theory sessions including surf skate classes
Access to surfboards and wetsuits every day
4 x surf specific yoga classes
4 x breakfasts
4 x lunches
4 x dinners
Homemade snacks, tea and coffee throughout the day
2 x 1 hour spa sessions
Activities every evening: Bonfires, movie screenings, live tunes, games nights and always handy for a few pints in our on site pub P Dans.
Prices are based per-person
4 Person Dorm Room | Ensuite | 4 nights
€540
Twin/double | Ensuite | 4 nights
€620
Twin/double | Ocean view | Ensuite | 4 nights
€660
Add-On | Single room occupancy
€150
We'll be doing lessons every day on one of our nearby beginner surf beaches, which will be tailored to each surfer's experience level. It's not just in the waves though, we'll have some theory classes, surf skate sessions and stand up paddleboards for the flat days.

Our in house chef, Cat, is a master of her trade when it comes to vegan and vegetarian cooking. There'll be three delicious meals per day and plenty of snacks throughout.

Did somebody say 'Ireland's Most Scenic Spa?'. Our sister company,The Big Dipper, is a stunning sauna and hot tub set up directly across the road from the lodge. It's usually an add on for trips to the lodge but there's a session each day included in the trip. The perfect spot to unwind. Read more about it here: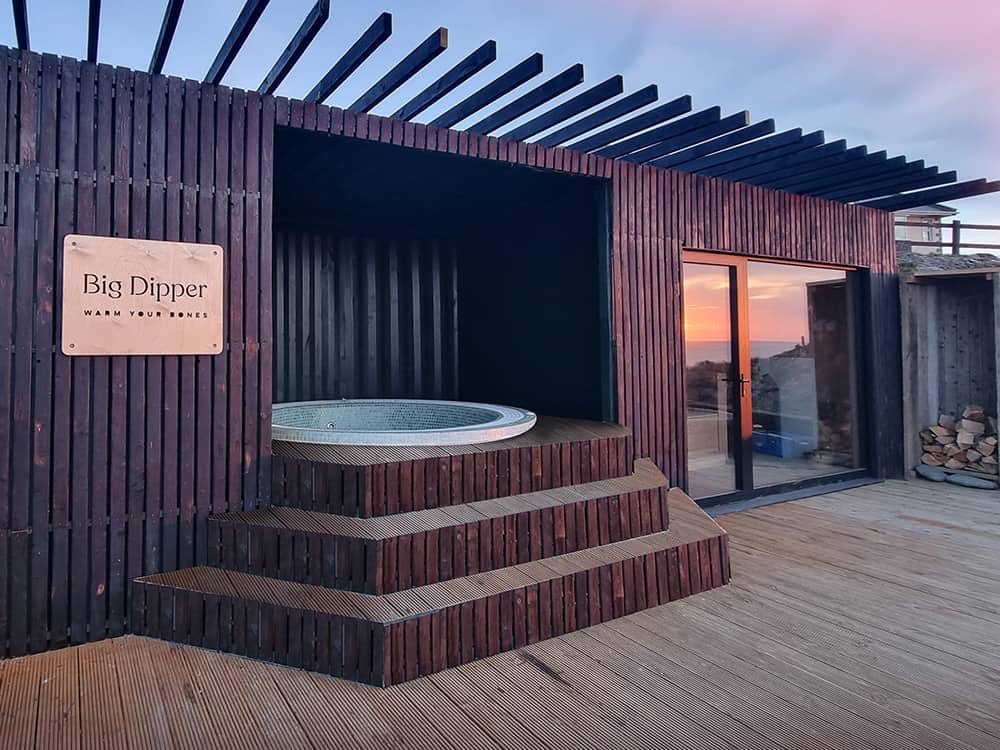 For the surf week we'll be doing surf specific yoga to strengthen and stabilise the muscles used for surfing
Killadoon hill just beside the lodge has been described as 'The best hike to view ratio in Ireland' and we're inclined to agree. An hour round trip from top to bottom and you're rewarded with sweeping views from Croagh Patrick to Connemara and back again.
Here's what a sample week will look like. It's alway subject to change due to weather but it'll look a lot like this.
6.30pm
Welcome Drink & Speech
8.30pm
Ice breaker games and post dinner spa session
10.30am
Activity 1 (Surf Lesson or Hike)
3pm
Activity 2 (Supervised Free Surf or Paddle Session)
5.30 - 7.30pm
Chill Time/Afternoon Tea/Balance Board
9pm
Surf documentary screening
10.30am
Activity 1 (Surf Lesson or Surf Theory)
3pm
Activity 2 (Free Surf or Hike)
5.30 - 7.30pm
Chill Time/Afternoon Tea/Balance Board
8.30pm
Live music in the Lodge,
10.30am
Activity 1 (Surf Lesson or Surf Theory)
3pm
Activity 2 (Free Surf or Hike)
5.30 - 7.30pm
Chill Time/Afternoon Tea/Balance Board