Planing on hibernating for the winter? Not on our watch. 
Due to popular demand BigStyle Atlantic Lodge will be opening right through the winter… except for a brief hiatus for January and February.  For the chilly period the Shtyle's decided to put together something tailored for those short, sharp November, December, March and April days. 
So slide yourself down to the warm embrace of the BigStyle Atlantic Lodge this winter for a weekend of relaxed yoga, windswept adventures, chilly dips, hearty food, cosy pints, class tunes and serious craic.  
Read on to find out just what we've got in store for you.
Two yoga sessions per day, one in the morning and one the evening. 

At least one big outdoor activity each day 

Breakfast lunch and dinner each day from our new (heartier) winter menu  

Full access to the hot tubs on the Saturday night 

A mulled wine reception… I know, classy shtuff. 

Live music in the pub on Friday and in the lodge on Saturday 
Activities will have to be subject to weather but we'll always be able to make something happen. 
Killadoon Hike & Swim Combo
There's a beautiful one and a half hour hike up Killadoon hill right behind the lodge. It loops back around to the beach on the decent so if you're feeling brave a winter dip is the perfect way to round it off.  Then open fires and hearty food.
Surfing
If the weather's playing ball we'll get some surfing on the go. It's going to be a bit cold but we're thinking less of a long drawn out lesson and more of a quick splash in the sea followed by showers and tea. We've got 5mm wetsuits and boots so it won't be all that bad.
Mweelree Hike
This is a full 3.5 hour round trip up Connaught's highest peak, it's not the world's easiest ascent but the rewards are myriad for those hardy hikers out there.  Imagine views over Killary Fjord, right the way down through Connemara, taking in the beaches and islands all the way up to Croagh Patrick and Clew Bay. Then get back to the lodge for pints and craic. 
Yoga
Whatever the weather we'll be running our yoga classes every day before breakfast in our brand new yoga room with its spectacular view
Live Music
Every Friday night there'll be a trad session in our on-site pub, P. Dan's. Where the pints will be flowing and the craic will be mighty. Then on Saturday we'll have various different musicians in to play the Live at the Lodge sessions either inside or outside depending on the weather – it's always a great buzz. 
Hot-Tubs and Mulled Wine
No winter Saturday evening at the lodge would be complete without vast vats of Mulled Wine and deliciously warm hot tubs. Sure where would you get it.
Food (we know it's not an activity)
But it's class – the winter menu promises to be hearty, healthy and delish. 
The drivers should be leaving straight after work as it's a four hour drive, while those going by rail should be on the 18.15 Westport train and we'll have a bus to meet you at Westport station on arrival.
When we get down to BigStyle's Atlantic Lodge the team will have food waiting for us weary travellers – all food is vegetarian  but if you have any specific food requirements let us know and we'll make a plan. We can cater for vegans and ceoliac easily with prior notice.
Then we'll have a few beers at the Lodge and see where the night takes us.
We're up nice and early on Saturday morning, around 8am, then we'll be running a yoga class first thing in the morning in our fantastic new Yoga studio.
Then we'll have breakfast in the back lodge and after that we'll head out to start the day's adventures, in between activities the Lodge team will serve up some hearty lunch.
We'll definitely have at least one outdoor activity and if the weather plays ball we'll have two. We'll have a second yoga class (usually acro-yoga) or a workshop if the weather's too hectic. 
After the day's adventures it'll be back to BigStyle HQ for mulled wine, hearty food, bonfire, craic, live tunes and a fair bit of bejaysus.
We might leave the wake up a little later on Sunday but the minute we get up (after a bit of Yoga and breakfast) we'll be back into the great outdoors for our next adventure.
The aim is to get our activities done by 2 or 3pm and then after a bit of lunch try and hit the road, we'll also have a return bus heading down to meet the 5.45 Dublin bound train.
We'll be exhausted… the good kind of exhausted though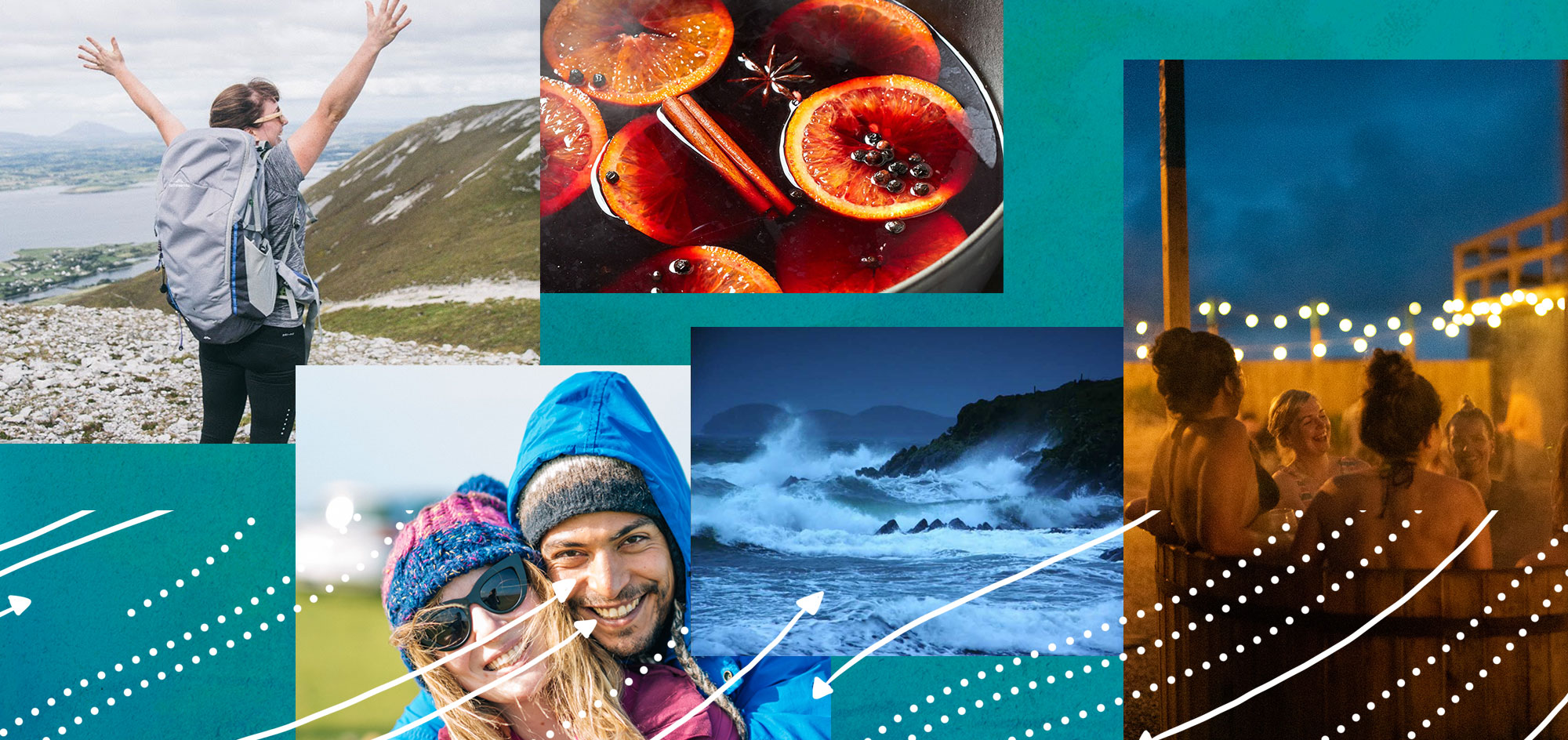 Transport down. No problem for drivers and we've got a train & bus package for those non-drivers.

Alcoholic beverages – but there'll be plenty of opportunities to stock up in an off-licence or enjoy a creamy pint of black stuff in a local boozer.
So there are two ways of getting down to us.

1. SELF DRIVE 

If you have your own car it's a straightforward 3.5 – 4 hour drive down the M6. If you're driving solo or have space in your car we'll try to find you some other guests to carpool with.
Once we know who's going we can start putting plans together regarding this.


2. TRAIN & LIFT

You can take the train from Dublin to Westport and we can collect you from Westport train station and bring you straight to the lodge.

The transfer from Westport train station to the lodge costs €10 each way  

From Dublin the plan would be:
Outgoing: Take the 18.15 train from Dublin Heuston to Westport on Friday evening

Return: Take the 5.45 train from Westport to Dublin Heuston on the Sunday evening

The train usually costs €40 return and takes 3.5 hours
Swimwear 

Beach towel 

Wetsuit if you have one (we'll of course provide one if you don't)

Warm and waterproof clothes, and plenty of changes of socks and trousers etc. It's the West of Ireland in late Autumn… be prepared. 

Hiking boots (waterproof if possible)

Reusable water bottle

A bit of booze if you're that way inclined