A quick note on our Covid response 
We've spent the last few months making sure that the lodge is ready to reopen, and that means making sure we're in-line with all the government legislation/advice on safety and cleanliness. 
On top of that we've made some organisational and structural changes to the weekends to ensure that they run as safely, smoothly and as similar to our usual high standards possible – while retaining physical distancing. 
Among these changes are:
Smaller numbers on the weekends (less than 20), less students to more instructors during outdoor activities, multiple small yoga classes throughout the day, a full room renovation of the bedrooms, temporary closure of our dorm rooms, an optional extra day to add on to the trips, and a rethinking of how we serve food… along with an exciting reimagining of the menu. 
The upside is that these changes will make for more intimate, streamlined events that our guests will get more out of.
For a full and comprehensive rundown of all the changes we've implemented to make sure BigStyle can open back up in July check out our Covid response below. 
So thanks for reading and we're very much looking forward to seeing you out wesht this summer!
We are currently taking pre-bookings for June onwards on 2021 hoping we will be able to run events however this is yet to be confirmed the the Governments revised road map for the Summer of 2021.
Big Style Crew 1st March 2021
Adventure Weekend Deposit Option 
Given the trying and uncertain times we all are facing right now we'll be introducing a deposit booking option on all Adventure Weekend Packages from the 1st March 2021.
This means that any booking made from this date onwards will need to put down a €100.00 deposit in order to secure the place on the trip. The remaining payment will then be due one month from the date of the event.
This deposit will be non-refundable, however we are happy for anyone who wants to cancel or requires a cancellation to use this as credit with BigStyle.
This credit can be used on any other BigStyle Event in Mayo or in the Dun Laoghaire SUP School.
Finally if the entire event has to be cancelled due to unforeseen circumstances we'll be happy to move the booking to a new date with no penalties.
Management 1/3/2021
The adventure weekend is a BigStyle classic open to anyone from total water sport beginners to salty old sea dogs.
The idea is pretty simple
2 day adventure weekend:
You come down to the lodge after work on a Friday, have a drink and a chat and meet a load of new people.
Then get up on Saturday, spend the day doing all manner of watersports, yoga, hiking and eating amazing food.
Have a big Saturday night with bonfires and general craic.
Get up on Sunday and do it all again.
And go home wrecked and happy on Sunday evening.
New 3 day adventure weekend:
The exact same plan as before but instead of going home on Sunday afternoon / evening we stay on for Sunday night and have loads more craic until Monday evening. 
Read on for all the details: 
Surfing

We'll be running surf lessons and providing rentals depending on your level. Cross beach is a perfect spot for learning and we'll do everything we can to get you standing on your first wave.
Yoga

Whatever the weather we'll be running our yoga classes every day before breakfast in our brand new yoga room with its spectacular view.
Bonfire
We love a good bonfire and we'll be sure to get one burning on one of the nights if the rain stays at bay!
Hiking
The lodge is situated next to the magnificent Killadoon Hill which we often tackle on one of the days. It offers panoramic views of the surrounding area and we often end the expedition with a sea swim down on Killadoon Beach. 
This is the stuff that we'll do if the weather doesn't allow for the main activities… but they're still class.
Beach Walks

The lodge is located next to some of the most beautiful and untouched beaches on the Wild Atlantic Way. They are offers lots to explore and some provide hidden coves for magnificent sea swimming! 

In the Lodge, we pride ourselves on serving up delicious and healthy meals to nourish and fuel your body and being active in the outdoors. We serve up mainly vegetarian dishes but we promise you won't be missing meat this weekend. 
Breakfast

Start your day super healthy with oat milk porridge, homemade granola, fruit compote, fresh sourdough bread, and Cloud Picker coffee.
Lunch

We have a variety of hearty and healthy soup recipes, served with a kale salad and fresh baguette. 
Dinner
Dinner on Friday is Mushroom Guinness Stew with creamy mash. Then on Saturday, every guest gets a personal wood-fired sourdough pizza from our BigSlice menu.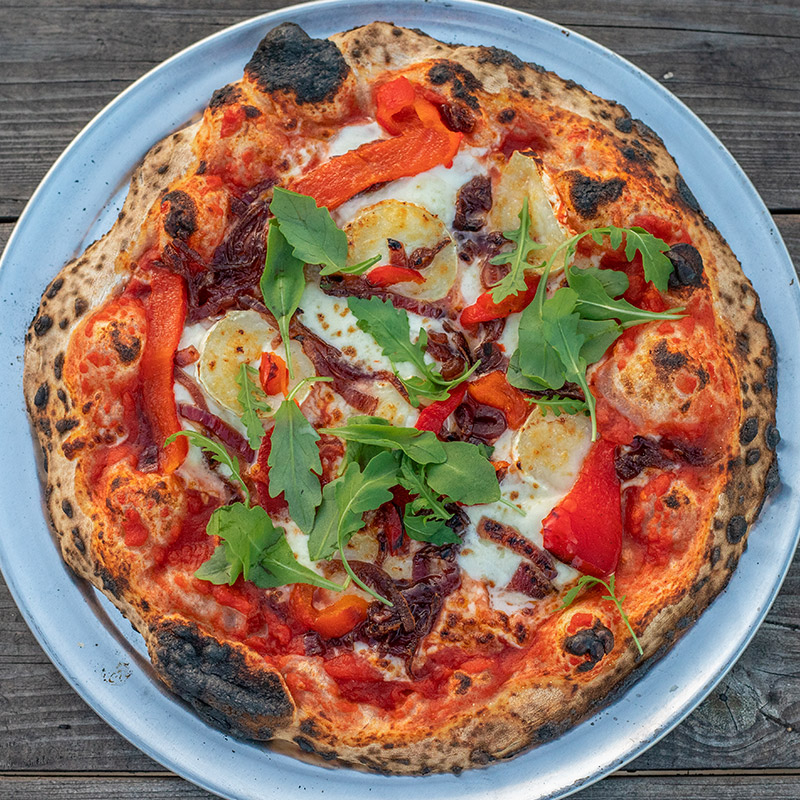 Rough Layout for 2 Day Weekend
The drivers should be leaving straight after work as it's a four hour drive, while those going by rail should be on the 18.15 Westport train and we'll have a bus to meet you at Westport station on arrival.
When we get down to BigStyle's Atlantic Lodge the team will have food waiting for us weary travelers – all food is vegetarian  but if you have any specific food requirements let us know and we'll make a plan.  We can cater for vegans and ceoliac easily with prior notice.
We'll have a few beers at the Lodge and see where the night takes us.
We're up nice and early on Saturday morning, at around 8am. 
We'll run a yoga class first thing but we'll also be running classes throughout the day – as we'll have to keep the numbers down to make sure we can social distance in our yoga studio, which is big… but not that big. 
Then we'll have breakfast in the back lodge and after that we'll head out to start the day's adventures, in between activities the Lodge team will serve up some hearty vegetarian lunch.
After the day's adventures it'll be back to BigStyle HQ for beers, food, bonfire, craic, tunes and a fair bit of bejaysus.
We might leave the wake up a little later on Sunday but the minute we get up (after a bit of Yoga and breakfast) we'll be back into the great outdoors for our next adventure.
The aim is to get our activities done by 2 or 3pm and then after a bit of lunch try and hit the road, we'll also have a return bus heading down to meet the 5.45 Dublin bound train.
We'll be exhausted… the good kind of exhausted though
Rough Layout for 3 Day Weekend
Friday and Saturday follow the same plan BUT all bets are off for Sunday and Monday:
Follows the same plan as the regular weekend up until Sunday afternoon. 
After lunch (and a well earned post lunch rest) when the others are hopping in cars and prepping to get the train, the three day crew will be getting ready for a bit more action. 
We'll be running an evening wind-down yoga class for those who are keen, and for those who would be into something more outdoorsy we'll be planning to get in the sea to round off the day. 
For those who are still a bit thirsty, the pub will be open for the few pints. 
So we'll be up for breakfast whenever you want with yoga classes for those who are keen starting at around 10am. 
We'll be running an outdoor activity around 11.30am with a view to be back at the lodge for lunch before 2.30pm. 
Alternatively we can give you advice and maps and you can go exploring the area at your own pace. 
The afternoon will be for chilling and doing whatever the hell you want and then you take the trip back home whenever you feel like it. 
2 day adventure weekend:
Two nights accommodation in either double or twin ensuite rooms

Yoga classes throughout the weekend

A very healthy breakfast, lunch and dinner for two days – two breakfasts, two lunches and two dinners. 

All activities and equipment (activities will be decided according to the weather):

Surfing

Hiking

Loads of craic

No hidden costs – we're sound
3 day adventure weekend:
Three Nights accommodation in either double or twin ensuite rooms 

Yoga classes throughout the weekend

A very healthy breakfast, lunch and dinner for three days – three breakfasts, three lunches and three dinners. (Including one make your own pizza night) 

All activities and equipment (activities will be decided according to the weather):

Surfing

Hiking

Loads of craic

No hidden costs – we're sound
Transport down. No problem for drivers and we've got a train & bus package for those non-drivers.

Alcoholic beverages – but there'll be plenty of opportunities to stock up in an off-licence or enjoy a creamy pint of black stuff in a local boozer.

So there are two ways of getting down to us.

1. SELF DRIVE 

If you have your own car it's a straightforward 3.5 – 4 hour drive down the M6. If you're driving solo or have space in your car we'll try to find you some other guests to carpool with.
Once we know who's going we can start putting plans together regarding this.


2. TRAIN & LIFT

You can take the train from Dublin to Westport and we can collect you from Westport train station and bring you straight to the lodge.

The transfer from Westport train station to the lodge costs €10 each way  

From Dublin the plan would be:
Outgoing: Take the 18.15 train from Dublin Heuston to Westport on Friday evening

Return: Take the 5.45 train from Westport to Dublin Heuston on the Sunday evening

The train usually costs €40 return and takes 3.5 hours
Booze

Swimwear

Beach Towel

Wetsuit if you have one

Warm & comfy clothes for after beach/hiking etc
As we had to close down our dorm rooms unfortunately there'll be no dorm packages at the moment… so all prices are listed for our Twin, Double & Triple ensuite rooms per person below.
2-day Adventure Weekend – Double/Twin Room En-suite – €330pp
2-day Adventure Weekend – Triple Room En-Suite- €310pp
All in with no hidden costs
Extra one day add on to make it a 3-day Adventure Weekend – €120
*IMPORTANT MESSAGE*
In order to keep in line with Physical distancing throughout the Adventure Weekends we can only take bookings from groups of four people at a minimum.
We're really sorry for any inconvenience caused by this and feel free to contact us if you have any questions.
If there is no availability below please email your request to lodge@bigstyle.ie and we will do our best to fit you onto one of our trips.
PLEASE NOTE:
Unfortunately bookings are not open on our website at the moment and we are taking them directly via email and we are operating a Waiting List system at the moment.
If you would like us to add you to the list please send an email to lodge@bigstyle.ie with your name, contact number, group size and date preference.
DATE LISTINGS:
Friday 11th June 2021 – SOLD OUT
Friday 18th June 2021 – SOLD OUT
Friday 25th June 2021 – SOLD OUT
Friday 2nd July 2021 – SOLD OUT
Tuesday 6th July 2021 – 2 Day Trip – Available
Friday 9th July 2021 – SOLD OUT
Friday 16th July 2021 – SOLD OUT
Friday 23rd July 2021 – SOLD OUT
Friday 30th July 2021 – SOLD OUT
Friday 6th August 2021 – SOLD OUT
Friday 13th August 2021 – SOLD OUT
Friday 20th August 2021 – SOLD OUT
Tuesday 24th August 2021 – 2 Day Trip – Available
Friday 27th August 2021 – SOLD OUT
Friday 3rd September 2021 – SOLD OUT
Friday 10th September 2021 – 3 Day Trip – Available
Friday 17th September 2021 – 2 Day Trip – Available
Tuesday 21st September 2021 – 2 Day Trip – Available
Friday 24th September 2021 – 2 Day Trip – Available
OCTOBER DATES TO BE ANNOUNCED SOON – 14/5/21